Dapper Balance represents the funds available for use in your Dapper account at any given time. Dapper Balance can be used across all Dapper Sports products, such as NBA Top Shot, NFL ALL DAY, UFC Strike, and LaLiga Golazos as well as any partner using Dapper Wallet and can be redeemed via USDC to other networks and wallets.
As you make purchases, sales, deposits, or withdraw your funds, those changes will be reflected in the balance displayed in your Dapper account. If you want to learn more please review the Terms of Service
How to Purchase Dapper Balance
Dapper Balance can be purchased in just a few easy steps using your credit or debit card, as well as cryptocurrency.
For step-by-step directions on how to purchase Dapper Balance, read our article: Adding Funds to Your Dapper Balance.
How to Withdraw From Your Dapper Balance
You can withdraw funds from your Dapper Balance using the following method:
By converting your Dapper Balance to USDC and sending those tokens to either an Ethereum wallet address that accepts USDC or a supported Flow wallet address.
To learn more about withdrawing from your Dapper Balance, including step-by-step instructions for each of the options listed above, check out our article: How to Withdraw.
Non-Withdrawable Dapper Balance
You may also, at times, have non-withdrawable Dapper Balance. These are funds deposited into your Dapper Balance from various promotional campaigns or other sources. These funds must be used for purchases and cannot initially be withdrawn.
How to View Your Dapper Balance
To view your Dapper Balance, simply go to your Dapper account. Your Dapper Balance will be the funds displayed in your account's 'Home' tab.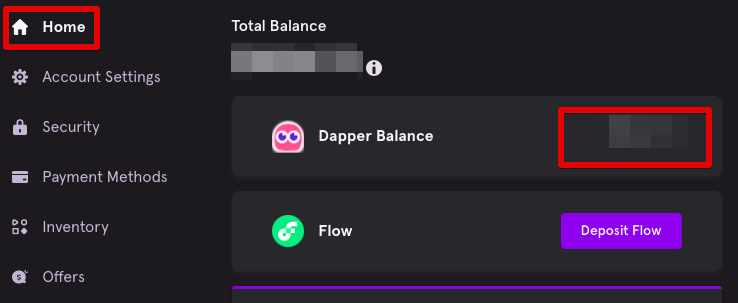 If you are trying to reach your Dapper account via the Dapper website, click 'Continue to Dapper' on the site's homepage.